A geographer from the University of Leicester has produced for the first time a map of the scorched Earth for every year since the turn of the Millennium.
Dr Kevin Tansey, of the Department of Geography, a leading scientist in an international team, created a visual impression of the fire scars on our planet between 2000 and 2007. The work was funded by the Joint Research Centre of the European Commission.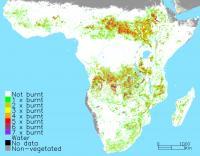 ©University of Leicester
This map shows the occurrence of fire activity in sub-Saharan Africa, determined by detection of the fire scar, for a seven year period 2000-2007. The frequency of fire occurrence is shown in the map, color-coded from regions that burnt once in the seven year period shown in green to regions that burnt during every year of the project shown in purple.