Mount St. Helens just won't quit.
Three years ago this month, hundreds of small earthquakes heralded the renewal of volcanic activity at the Cascade peak after an 18-year lull. Since then, the volcano has been a perpetual-motion machine.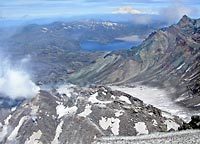 ©EVAM CALDWELL / AP
Gases escape the growing dome inside the Mount St. Helens' crater overlooking Spirit Lake in June. Mount Rainier is in the background.