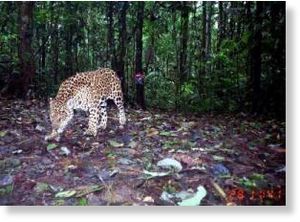 The Wildlife Conservation Society (WCS) has released photos from the first large-scale census of jaguars in the Amazon region of Ecuador - one of the most biologically rich regions on the planet.
The ongoing census, which began in 2007, is working to establish baseline population numbers as oil exploration and subsequent development puts growing pressure on wildlife in Ecuador's Yasuni National Park and adjacent Waorani Ethnic Reserve. Together, these two protected areas make up some 6,500 square miles (16,800 square kilometers) of wilderness.
The research is being carried out by a team led by WCS research fellow Santiago Espinosa. Espinosa's team, which includes several members of the Waorani indigenous group, set up a complex system of "camera traps," that photograph animals remotely when they trip a sensor that detects body heat. His work is being funded by WCS, WWF, and the University of Florida.
So far the team has taken 75 pictures of jaguars, which can be individually identified through their unique pattern of spots. Other images show jaguar prey species, such as white-lipped peccaries, and other rarely seen species, including two pictures of a short-eared dog, a relative of foxes and wolves.