KURIHARA - Rescue teams digging their way through a ravine buried in mud Sunday pulled three bodies from a hot springs inn, bringing the death toll to nine after a powerful earthquake rocked northern Japan.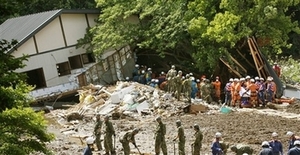 ©AP Photo/Kyodo News
Rescue workers, right, surround a body they retrieved from a two-story hot spa inn, left, which was destroyed by a landslide triggered by Saturday's earthquake in Kurihara, Miyagi prefecture (state), northern Japan, Sunday June 15, 2008. Soldiers fighting through a torrent of mud and rocks dug out three bodies at the hot spring Sunday, bringing the death toll from a magnitude 7.2-earthquake that hit the mountains of northern Japan to at least nine, with more than 200 injured.