Brisbane - Flash floods killed a woman and forced evacuations as torrential rain drenched Australia's battered city of Brisbane Thursday just days after it was hit by a violent storm, officials said.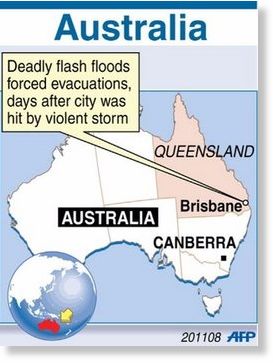 The 85-year-old died when she was trapped in her car as it was swept away by floodwaters east of the Queensland state capital, police said. Her elderly husband was recovering in hospital.
More than 1,000 calls were made to emergency services in Brisbane and surrounding areas on the east coast, which were pounded by up to 25 centimetres (nearly 10 inches) of rain over seven hours overnight.
Thousands of homes were plunged into darkness and families were evacuated from houses threatened by a landslip workers had been trying to stabilise after Sunday's storm, said state Emergency Services Minister Neil Roberts.
Several motorists were rescued after being trapped in flooded cars, while major highways and train services were cut, officials said.
"We've got crews out there and cars have been washed off the roads," said the mayor of nearby Ipswich, Paul Pisasale.
State Premier Anna Bligh said she had called the State Disaster Management Group into action after the second major storm in a week.
Electricity was cut to more than 2,600 homes and businesses in the towns while areas near the Sunshine Coast tourist mecca were also without power.
"The worst affected areas to date are in the Ipswich, Bundamba, Gatton, Lockyer area," said Bligh.
"We've also seen very heavy rainfall in Toowoomba and early reports of some damage at the Gold Coast."
She warned that river levels were still rising and further flooding was possible.
"As people clock up the damage this morning I think we'll get a much clearer picture of how widespread this is," she said.
"Our emergency resources will no doubt be stretched but we'll be getting out there to help people all day today."
The floods pile more misery onto residents trying to clean up after Sunday's storm, which saw parts of Brisbane declared a natural disaster zone, with houses destroyed, trees felled and power lines and phone services down.
About 10,000 insurance claims worth 95 million dollars (60 million US dollars) have been lodged so far but insurers say the total damage bill including infrastructure could be 500 million dollars.
The Bureau of Meteorology has forecast further wet weather, lightning and possible hail in the area.