Cold air that is as much as four weeks ahead of schedule has produced record cold temperatures
and more lake-effect snow to the lee of the Great Lakes. Snow showers will reach east of the Appalachians into the weekend.
The extreme cold air pouring out of the high Arctic is trailing a weak clipper system that moved into the mid-Atlantic region Thursday. The cold air is spreading across much of the country east of the Rockies, but the core of the cold will be in the Midwest and the Northeast.
Temperatures into the weekend will be as much as 20 degrees below normal, while strong winds will create RealFeel® temperatures that will feel even colder.
According to the South Regional News story, even though the coldest air will bypass the Deep South, daytime temperatures on Friday will be only in the 40s and 50s.
The strong winds blowing across the open, warm water of the Great Lakes will unleash streamers of heavy lake-effect snow to the lee of the lakes. The Midwest Regional News story reports that over foot of lake-effect snow fell on the Upper Peninsula of Michigan Thursday.
The Severe Weather Center lists the snow-related watches, warnings and advisories in effect to the lee of the lakes and along the spine of the Appalachians.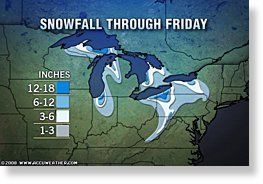 Snow through Friday could fall at a rate of 2 to 3 inches per hour. Blinding snow squalls streaming off the lakes will create dangerous winter driving conditions in many areas, especially western and upstate New York and northwestern Pennsylvania.
Streamers of snow will reach far away from lakes Erie and Ontario overnight into Friday. These narrow bands of snow can deliver up to a quick couple of inches of snow in a few hour's time. One such streamer may make for a slow go Friday morning in southeastern Pennsylvania. Commuters are advised to allow extra travel time and drive carefully in the the mid-Atlantic, due the the sudden nature of the snow showers.
Temperatures will rebound slightly next week; however, the potential for lake-effect snow could cause problems for travelers in the East in the days leading up to Thanksgiving.
While the cold is bad news for homeowners, it is good news for skiing interests. The quick start to the winter season is giving many ski areas in the Northeast the best head start in years. Resorts will be busy cranking out snow in the coming days with hopes of a busy Thanksgiving holiday weekend at the slopes.
High Temperatures For Selected Cities
City
Avg.
Fri.
Sat.
Sun.
Mon.
Buffalo
44
28
30
34
39
Pittsburgh
48
29
32
38
40
Philadelphia
52
41
38
44
47
Washington, D.C.
55
40
38
45
47
New York City
51
38
36
41
44
Boston
50
36
38
39
43