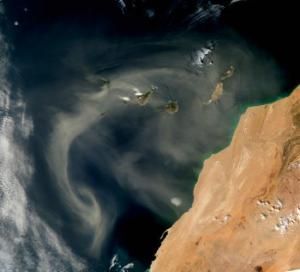 The recent warming trend in the Atlantic Ocean is largely due to reductions in airborne dust and volcanic emissions during the past 30 years, according to a new study.
Since 1980, the tropical North Atlantic has been warming by an average of a quarter-degree Celsius (a half-degree Fahrenheit) per decade. Though this number sounds small, it can translate to big impacts on hurricanes, which thrive on warmer water, says Amato Evan, a researcher with the University of Wisconsin-Madison's Cooperative Institute for Meteorological Satellite Studies and lead author of the new study. For example, the ocean temperature difference between 1994, a quiet hurricane year, and 2005's record-breaking year of storms, was just one degree Fahrenheit.
More than two-thirds of this upward trend in recent decades can be attributed to changes in African dust storm and tropical volcano activity during that time, report Evan and his colleagues at UW-Madison and the National Oceanic and Atmospheric Administration in a new paper. Their findings will appear in an upcoming issue of the journal
Science
and publish online March 26.