The winter storm that swept across New Brunswick on Monday blew in record levels of snow in some parts of the province.
Some of the snowiest places following Monday's blizzard were McNamee, near Boiestown, which saw more than 65 centimetres of snow fall, as well, Kouchibouguac, on the province's east coast, witnessed 60 centimetres of snow fall.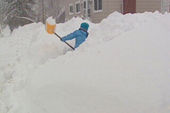 Bathurst residents were digging out from 55 centimetres of snow, which set a new record for the northern city in terms of snowfall in one day in February.
Bathurst Mayor Stephen Brunet said the cleanup is continuing from Monday's record-breaking snowfall, one of the worst winter storms he can remember.
"You're driving down the street and you're going down like a snake. You know, there's nothing straight on our streets at all because of the snow," Brunet said.
Additionally, 48 centimetres of snow fell on Fredericton, 37 centimetres on Saint John and 21 centimetres in Moncton.