Tropical Storm Erin formed Wednesday in the Gulf of Mexico and headed toward Texas, threatening to bring downpours to a state that already has had one of its rainiest summers on record.
Gov. Rick Perry ordered emergency vehicles and personnel, including National Guard troops, to the Harlingen and Corpus Christi areas.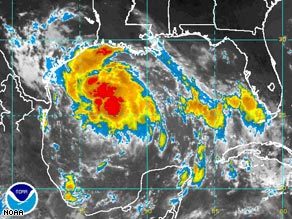 ©NOAA
NOAA satellite imagery shows Tropical Storm Erin intensifying Wednesday morning in the Gulf of Mexico.
"Because storms have saturated much of our state this summer, many communities in this storm's projected path are at high risk of dangerous flash flooding," Perry said in a statement.