Chief medical officers of the Faroe Islands have recommended that pilot whales no longer be considered fit for human consumption, because they are toxic - as revealed by research on the Faroes themselves.
The remote Atlantic islands, situated between Scotland and Iceland, have been one of the last strongholds of traditional whaling, with thousands of small pilot whales killed every year, and eaten by most Faroese.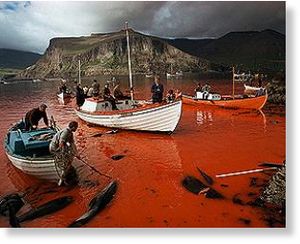 Anti-whaling groups have long protested, but the Faroese argued that whaling is part of their culture - an argument adopted by large-scale whalers in Japan and Norway.