UPDATE
A magnitude 6.3 earthquake struck near the town of Wells in northeastern Nevada at dawn on Thursday, shaking residents in their beds and causing some damage, the U.S. Geological Survey and residents reported.
"It lasted about 10-15 seconds," area resident Susan Shaw told Reuters by telephone. "I live about 20 miles from Wells and it shook the whole house. It was scary but there was no major damage."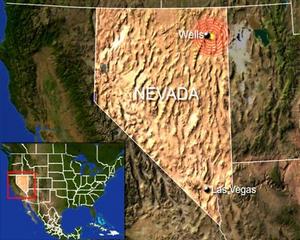 ©REUTERS/Graphics
A 6.0 magnitude earthquake struck Nevada on Thursday, the U.S. Geological Survey reported.