Science has provided the souped-up seeds to feed the world, through biotechnology and old-fashioned crossbreeding. Now the problem is the dirt they're planted in.
As seeds get better, much of the world's soil is getting worse and people are going hungry. Scientists say if they can get the world out of the economically triggered global food crisis, better dirt will be at the root of the solution.
Soils around the world are deteriorating with about one-fifth of the world's cropland considered degraded in some manner. The poor quality has cut production by about one-sixth, according to a World Resources Institute study. Some scientists consider it a slow-motion disaster.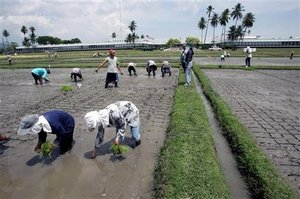 ©AP/Bullit Marquez
Farm laborers plant rice seedlings at the experimental plots of the International Rice Research Institute, IRRI, at Los Banos, Laguna province 70 kilometers (43 miles) south of Manila, Philippines Saturday May 3, 2008. IRRI scientists are working on better ways to improve rice yields through better soil and water management. Started in 1963, IRRI, planted Saturday its 133rd crop in long term trials in plots with zero fertilizer and nitrogen.