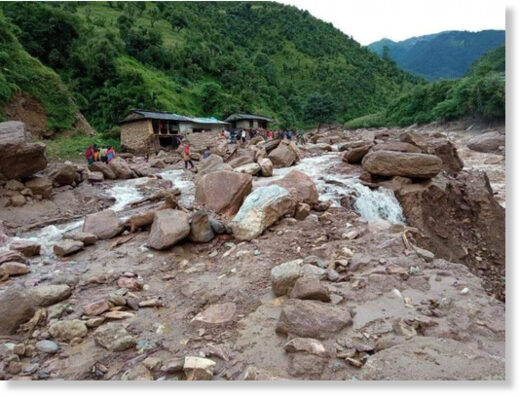 The disaster occurred in Dhorpatan Municipality on Wednesday midnight when Bhuji river blocked by landslide debris flooded the settlements along the river banks.
Nim Bahadur BK, a resident of Lankuribot in Dhorpatan Municipality Ward No. 9, Baglung district, woke up to find his house shaking on Wednesday midnight. The 45-year-old woke his wife and three children up and rushed outside just before the floodwaters from Bhuji River swept his house away.
"We spent the night under the open sky in the pouring rain," said BK.
Fourteen people died while at least 41 others went missing in Wednesday night's flood and landslide in Dhorpatan Municipality.
"Three individuals have been injured in the disaster and are currently receiving treatment at Burtibang Health Post," said Inspector Prakash Singh Bhandari of the Area Police Office in Burtibang.