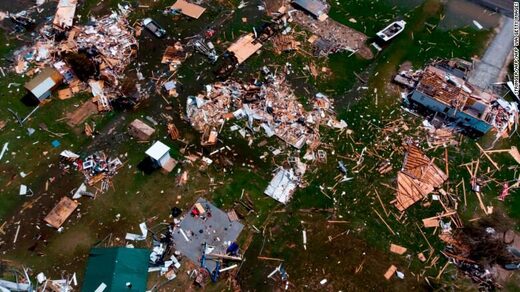 Hurricane Laura's
ferocious winds produced more damage than its storm surge as it pummeled portions of Louisiana. The storm left six people dead in Louisiana, including at least four from falling trees.
Laura came ashore as a
Category 4
storm early Thursday near the Texas border, tearing off roofs while knocking out power to hundreds of thousands.
Laura, later downgraded to a tropical storm, was about 35 miles south of Little Rock, Arkansas, with sustained winds of 40 mph as of 7 p.m. CT Thursday. But it made landfall around 1 a.m. with sustained winds of 150 mph, devastating southern Louisiana communities for miles.
While there were widespread reports of wind damage, some communities were also beset by storm surge. US Coast Guard aerial video showed flooding in Cameron along the coast.
"There's a lot of damage. People are going to need a lot of help around here," Paul Heard, who survived the ordeal in Lake Charles, told CNN.
Heard left his house just as the storm was pulling part of the roof off around 1 a.m., taking shelter in his car, he said. As he watched from 25 feet away, he "could see my roof was heaving up and down several inches."