Pigeons in Trafalgar Square are dying from hunger, say government scientists who have conducted post mortems.
Campaigners blame Mayor Ken Livingstone and Westminster council for banning feeding of the birds - a popular tourist pastime that used to provide a supply of food. Since September, feeding has been outlawed in the whole square.
Five pigeon corpses were sent by the Pigeon Action Group to the Veterinary Laboratories Agency in Suffolk in October.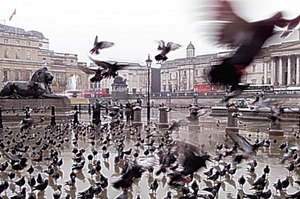 ©Unknown
Going hungry: pigeons found dead in Trafalgar Square had empty stomachs
Agency scientists, who also work for the Department of the Environment, found all five had empty stomachs and protruding bones.