Computer analyses of global climate have consistently overstated warming in Antarctica, concludes new research by scientists at the National Center for Atmospheric Research (NCAR) and Ohio State University. The study can help scientists improve computer models and determine if Earth's southernmost continent will warm significantly this century, a major research question because of Antarctica's potential impact on global sea-level rise.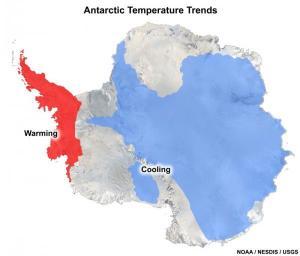 ©Steve Deyo, UCAR
This map of Antarctica shows the approximate boundaries of areas that have warmed or cooled over the past 35 years. The map is based on temperatures in a recently-constructed data set by NCAR scientist Andrew Monaghan and colleagues. The data combines observations from ground-based weather stations, which are few and far between, with analysis of ice cores used to reveal past temperatures.
"We can now compare computer simulations with observations of actual climate trends in Antarctica," says NCAR scientist Andrew Monaghan, the lead author of the study. "This is showing us that, over the past century, most of Antarctica has not undergone the fairly dramatic warming that has affected the rest of the globe. The challenges of studying climate in this remote environment make it difficult to say what the future holds for Antarctica's climate."