Earth Changes
Storm Center
YouTube
Fri, 20 Aug 2021 12:57 UTC
---
Richard Davies
Floodlist
Thu, 19 Aug 2021 12:43 UTC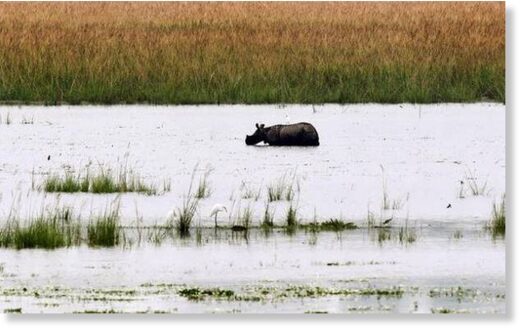 Flooding has affected over 20,000 people across 5 districts of Assam, northeastern India over the last few days.
According to the latest report from Assam State Disaster Management Agency (ASDMA), 43 village across the districts of Bongaigaon, Chirang, Dhemaji, Dibrugarh and Lakhimpur have been flooded, affecting 22,022 people. Twenty relief camps have ben set up to house those displaced. As of 18 August only 2 camps were in use. A relief camp in Chirang was housing 405 people and 365 were staying in a camp in Dhemaji.
ASDMA added that 2,937 hectares of crops have been damaged, along with several river embankments in particular in Bongaigaon district. A total of 27 roads have also been damaged.
---
RT
Thu, 19 Aug 2021 08:15 UTC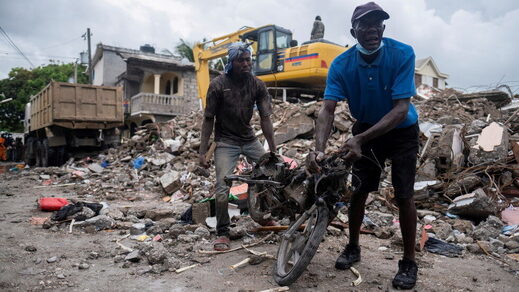 Haiti has recorded more than 2,100 deaths following a powerful earthquake that wounded more than 12,000 and destroyed tens of thousands of homes, while over 115,000 families displaced by the disaster continue to seek refuge.
The latest death toll was provided by the country's Civil Protection Agency on Wednesday night, now putting the figure at
2,189 people killed and 12,268 injured, also noting that more than 300 remain missing
since the quake struck last Saturday.
In a video address earlier in the evening, Prime Minister Ariel Henry said the earthquake put Haiti "on its knees," also vowing in a tweet to "personally" ensure that help gets to those who need it while insisting that his government would not "repeat history on the mismanagement and coordination of aid."
The earthquake that devastated a large part of the south of the country proves once again our limits, and how fragile we are.
Comment:
Since the last massive quake that hit Haiti in 2010, the Clinton Foundation and USAID destroyed Haiti even more. All the money from donations that were collected to rebuild Haiti was
stolen
by the Clinton's and Haiti became one big "slave camp" for the psychopathic "elite."
The last quake was just another nail in the coffin of devastated Haiti.
See also:
---
Richard Davies
Floodlist
Fri, 20 Aug 2021 11:51 UTC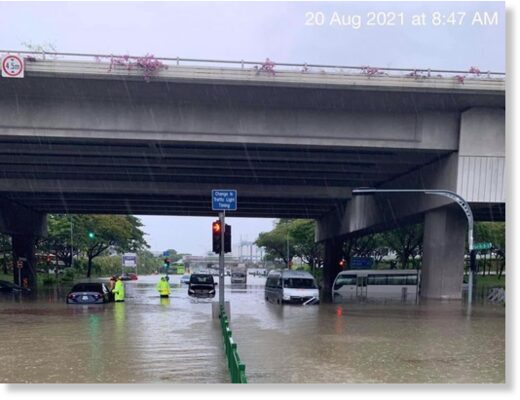 Over 100 mm of rain fell in a few hours in Singapore on 20 August 2021, flooding dozens of roads and causing severe disruption to traffic.
According to Meteorological Service Singapore, the weather station at Choa Chu Kang recorded 114.4mm of rain from midnight to around 18:00 local time. Pasir Ris saw 105.2 mm and Bukit Panjang 100.8 mm of rain during the same period.
Most of the rain fell in a short period during the morning rush hour.
Roads were swamped and vehicles left stranded. Singapore Civil Defence Force (SCDF) were called on to rescue motorists and passengers from 13 vehicles stuck in the flood waters. One person was injured and five people were taken to the safety of nearby sheltered areas, SCDF said in a statement.
---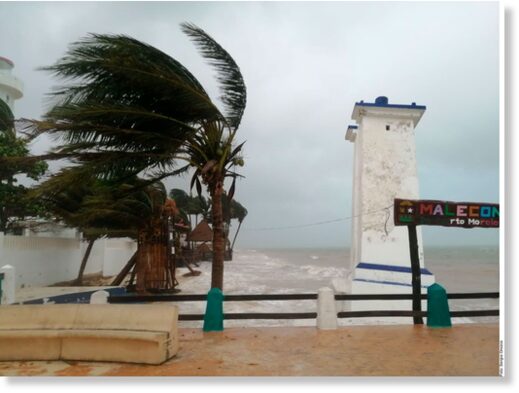 The storm causes widespread power outages on the Yucatan Peninsula.
Hurricane Grace has struck Mexico's Caribbean coast just south of the ancient Mayan temples of Tulum, pushing a dangerous storm surge. Heavy rain and strong winds threaten to destroy flimsier homes and keep tourists off white sand beaches until it crosses the Yucatan Peninsula.
The Category 1 storm had already soaked earthquake-damaged Haiti, Jamaica and the Cayman Islands en route to a direct hit on the Riviera Maya, the heart of Mexico's tourism industry. Grace's centre struck just south of Tulum at 4:45am (9:45 GMT) on Thursday with
maximum sustained winds of 130kmph (80mph), according to the US National Hurricane Center.
---
RT
Wed, 18 Aug 2021 22:02 UTC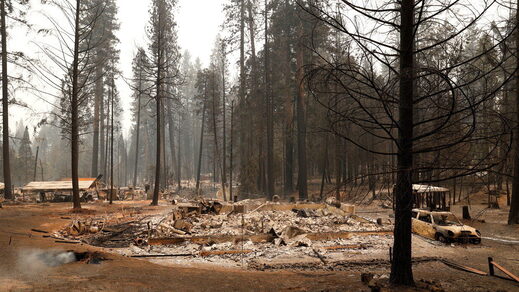 Thousands are evacuating from Northern California as the Caldor Fire has charred nearly 50,000 acres and destroyed dozens of homes, and officials are warning of conditions creating a "perfect combination" for it to spread further.
"The Caldor Fire continued to experience unprecedented fire behavior and growth due to extremely dry fuels pushed by the south west winds," the California Department of Forestry and Fire Protection (Cal Fire) said of the El Dorado County blaze.
In their latest update on fighting the fire, fire officials said a "red flag warning" has been extended through tomorrow, according to the National Weather Service. Red flag warnings are issued "for weather events which may result in extreme fire behavior that will occur within 24 hours."
Comment:
Yet another massive fire to join the list around the world. Could there be a connection with the
Perseids
?
See also:
---
Richard Davies
Floodlist
Thu, 19 Aug 2021 18:35 UTC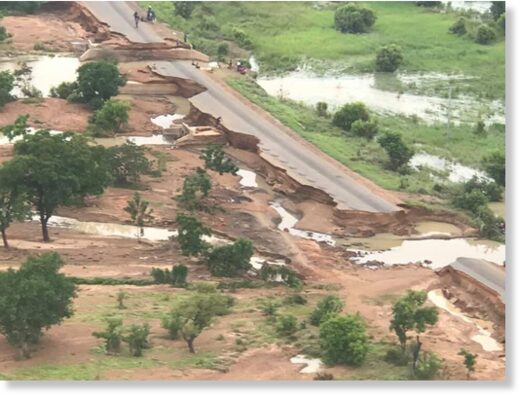 Damaging floods struck in Ghana's Upper West Region after recent heavy rainfall. Disaster authorities said over 1,605 people were affected and over 100 homes destroyed.
Furthermore flooding caused severe damage to roads and bridges in the region, impacting livelihoods and leaving some communities cut off.
National Disaster Management Organisation (NADMO) said flooding affected Nadowli-Kaleo District, Jirapa District, and the Lawra municipality in the Upper West Region.
Initial assessments revealed 336 people were displaced after 155 houses were destroyed in the floods. Around 1,605 people were directly affected but many more are suffering as a result of damage to crops and roads in the area. Over 700 farms have suffered some damage, NADMO said.
---
Richard Davies
Floodlist
Thu, 19 Aug 2021 18:24 UTC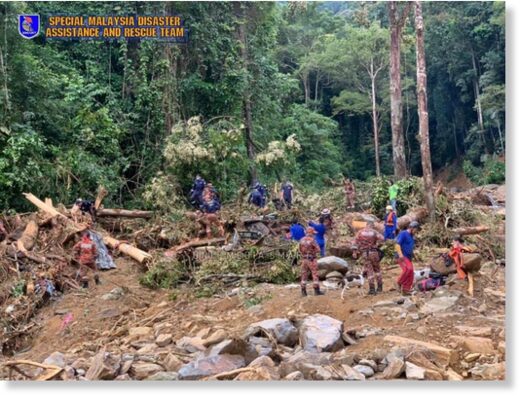 At least 4 people have died and 2 are still missing after powerful flash floods and landslides swept down the steep hillsides of Gunung Jerai in the Yan District of Kedah State in Malaysia.
The weather station at Gunung Jerai (Mount Jerai) in Kedah recorded 219 mm of rain in 24 hours to 18 August 2021. Disaster officials said as much as 90mm of rain fell in just 1 hour.
Teams from Malaysia Fire and Rescue Department (JBPM) and the Special Malaysia Disaster Assistance and Rescue Team (SMART) were sent to the disaster area after reports of several people missing in the floods. As of the afternoon 19 August, officials from JBPM confirmed rescue teams had found the bodies of 4 victims but 2 people are still missing. One person was injured in the floods.
Other parts of the state have also been affected, with a total of 96 people evacuated from homes in Bandar Baharu, Kuala Muda and Yan districts of Kedah State.
---
Richard Davies
Floodlist
Wed, 18 Aug 2021 17:16 UTC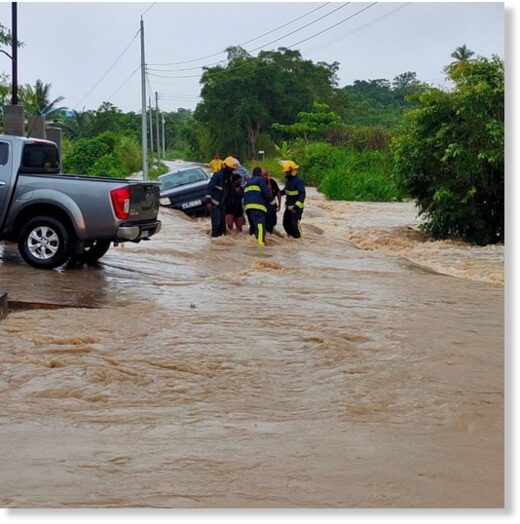 Flooding rain from Tropical Storm Grace has complicated rescue and recovery efforts in the wake of the earthquake in Haiti in which 1,941 people have now died.
Meanwhile over 500 homes were damaged by floods in neighbouring Dominican Republic. As the storm moved west, incidents of flooding and landslides were reported in Jamaica. Earlier heavy rain associated with Storm Grace caused flooding and landslides in Trinidad where one person died.
Dominican Republic
The Dominican Republic National Meteorology Office ONAMET reported 240mm of rain fell in Polo municipality of the Barahona Province in the southwest of the country in 24 hours to 16 August.
As of early 17 August there were several reports of flooding in the province. Floods and landslides also affected Peravia, Hato Mayor and San José de Ocoa Provinces.
The country's Emergency Operations Center (COE) reported 1 house was completely destroyed and 558 homes homes were damaged. Flooding displaced 2,242 people and left 13 communities cut-off.
---
Richard Davies
Floodlist
Wed, 18 Aug 2021 11:21 UTC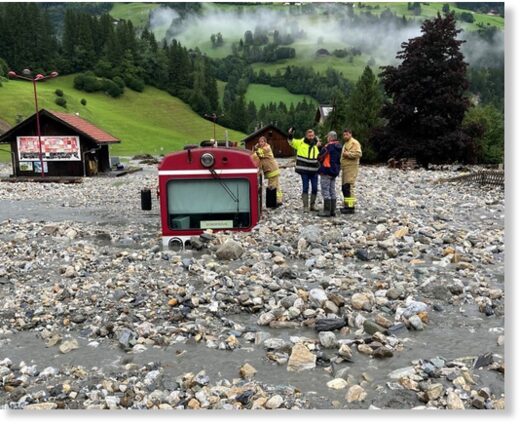 Flash floods and mudslides triggered by heavy rainfall caused widespread damage across parts of southern Germany, Austria and northern Italy from 16 August. One person died and one reported missing in Bavaria, Germany. Flash floods in Austria buried a train in rocks and debris in Wald im Pinzgau, Austria.
Bavaria, Germany
Flash floods triggered by heavy rainfall were reported in Grainau in Garmisch-Partenkirchen district, southern Bavaria in Germany.
Police reported 12 people were swept away or stranded after flash floods from the Hammersbach stream swept through the narrow Höllental gorge
situated at the foot of the Zugspitze, the highest peak of the Wetterstein Mountains. The area is popular with tourists and hikers.
A team of around 150 rescue workers were deployed to the area
. As of 16 August, 8 people had been rescued, while the body of one person had been found and 1 was still missing. Search operations were ongoing.
Severe weather also affected northern Germany, where a tornado hit the village of Grossheide near the North Sea coast late 16 August, damaging or destroying more than 50 homes.
---