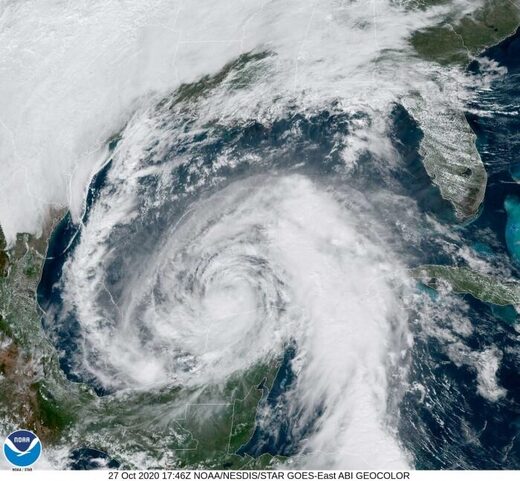 A catastrophic ice storm with destructive freezing rain is now underway across northwestern Texas and west-central Oklahoma. While at the same time, Tropical Storm Zeta is emerging back to the Gulf of Mexico after a damaging landfall as a hurricane in the Yucatan peninsula, Mexico last night. It will re-strengthen into a hurricane and head for the Gulf Coast on Wednesday.
Hurricane Zeta
Hurricane Zeta
, the 6th Greek alphabet named storm of Atlantic hurricane season 2020, has made landfall near the city of Consumel, Mexico last night, Oct 26th late evening. The landfall was of a Category 1 strength.
Now, Zeta is soon emerging into the Gulf of Mexico and will re-strengthen into a hurricane and head towards another dangerous landfall at the central Gulf Coast tomorrow.
The same hurricane Delta did two weeks ago. Delta crossed the northern tip of the Yucatan peninsula and made its second landfall in Louisiana a few days later.