Earth Changes
---
Richard Davies
Floodlist
Wed, 23 Jun 2021 09:38 UTC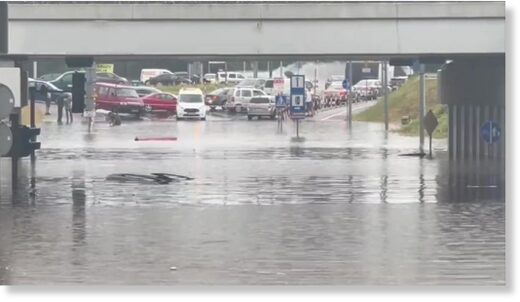 A series of storms brought flash flooding to parts of Poland, Czechia, Germany and Italy from 20 to 22 June 2021. The city of Poznan in western Poland was among the hardest hit areas, where buildings including a hospital were damaged.
Previously storms in northern and eastern France caused flash flooding in Marne, Somme and Oise departments, where one person was reported missing in the city of Beauvais.
Poland
On 22 June stormy weather affected several areas of Poland, including the cities of Warsaw, Krakow and Poznan.
The State Fire Service carried out 1,685 interventions in response to storm damage in Wielkopolska (545), Małopolska (366), Mazovia (291), Kuyavian-Pomeranian (150) and Lodzkie (115). No injuries or casualties were reported.
Government Security Center said storms left
23,134 people were without without electricity
mostly in the following Mazowieckie.
---
RT
Wed, 23 Jun 2021 06:45 UTC
Peru's capital, Lima was hit by a magnitude-6.0 earthquake on Tuesday night. The tremors were caught on live TV and caused people to run to the streets.
According to the Geophysical Institute of Peru, the epicenter was located 33km southwest of the town of Mala in Lima Region. Strong tremors were felt in the capital as well.
The sudden tremors interrupted several live interviews on TV, with newscasters instructing everyone to remain calm.
---
Isaac Olson
CBC.ca
Tue, 22 Jun 2021 05:33 UTC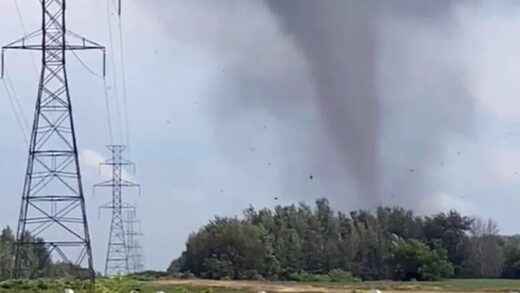 A man in his sixties is dead, after a tornado touched down in Mascouche, Que., late Monday afternoon.
The Canadian Red Cross is deploying teams to help 50 to 100 people displaced by the damage caused by the high winds.
Municipal officials have confirmed that the man, a father of three, died in storm just after 6 p.m. Between 75 and 100 homes were damaged by the tornado, according to local fire officials.
The mayor of Mascouche, Guillaume Tremblay, offered his condolences to the family of the victim, though he was unable to give more details on the cause of death. Tremblay said two others were lightly injured.
"We have houses that were blown off their foundations," he said.
"We have electric wires everywhere in the streets and a considerable amount of fallen trees."
Comment:
Other tornadic activity in the past few days include:
---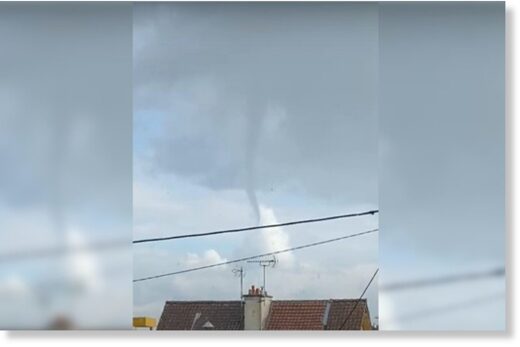 Worthy of an apocalyptic scene. A waterspout was observed on Monday June 21, 2021 around 6 p.m., not far from the town of Notre-Dame-de-Gravenchon, close to Havre (Seine-Maritime).
On social networks, Internet users have relayed impressive photos and videos of the phenomenon, which usually occurs in stormy weather.
---
Tetova News
YouTube
Tue, 22 Jun 2021 14:51 UTC
---
Chave Weather
YouTube
Tue, 22 Jun 2021 14:23 UTC
---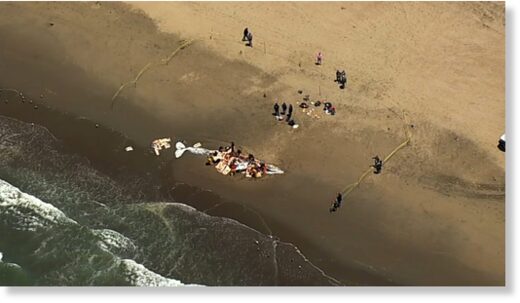 A dead whale washed up at Ocean Beach in San Francisco Monday.
The mammal was found floating in the surf.
Experts conducted a necropsy Monday afternoon to determine the whale's cause of death.
This is the 17th whale to wash ashore in the San Francisco Bay this year.
In April, four whales were found dead on Bay Area shores in just over a week.
---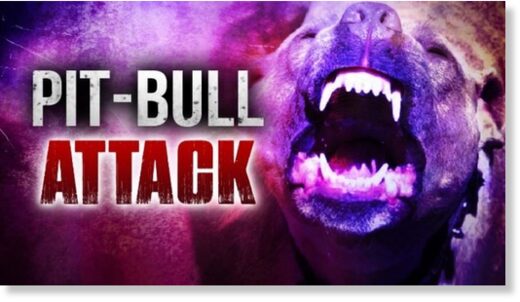 Osage County deputy sheriffs were dispatched Saturday, June 19, to an address west of Skiatook. They were carrying out a welfare check on an individual identified as Rebecca McCurdy, 28, who was reportedly house sitting and taking care of the homeowner's dogs.
When the deputies arrived at the home, they found McCurdy deceased. Her body was reportedly in the garage, and the Sheriff's Office said in a news release that evidence observed at the scene "indicates Rebecca was the victim of a dog attack."
"The homeowner claimed he raised pit bull dogs for hobby/sale," the Sheriff's Office said. "There were several pit bull dogs caged in the garage. One of the dog cages was toppled over and there were many signs of a dog attack visible."
Osage County Sheriff's Office investigators continued to look into the incident as they waited for results from the Oklahoma State Medical Examiner's Office. The dogs suspected of vicious activity were taken by the Sheriff's Office and were being held pending further investigation.
---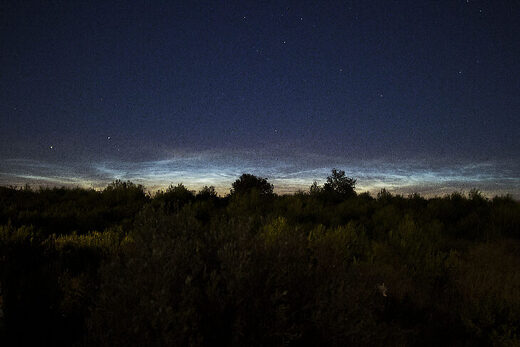 A week ago,
noctilucent clouds
(NLCs) were stuck inside the Arctic Circle. Suddenly, they have broken free.
Over the weekend, people saw the clouds through the city lights of Paris, Madrid, Berlin and other European capitals.
On June 20th, Francisco Gil photographed NLCs as far south as Valencia, Spain.
"It is pretty strange to observe noctilucent clouds from these latitudes," says Gil.
Indeed it is.
Valencia is at +39N, a latitude where NLCs are almost never seen.
For most of their history (NLCs were discovered in the 19th century), the clouds have been found mainly near the Arctic Circle. Now they are spreading. The record low latitude, to date, was set in June 2019 when the clouds appeared near Los Angeles (+34 N). Gil's sighting shows that they are in the 30s again.
This just in: Cameras at the Calar Alto Observatory in Spain recorded the clouds at an even lower altitude (+37.5N):
---