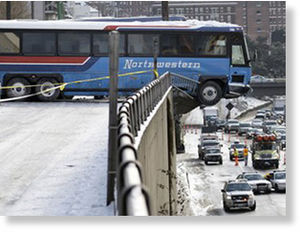 Seattle -
Two chartered buses slid down an icy, snow-covered cobblestone street and crashed through a guardrail Friday, stopping just before they would have plummeted onto the freeway 20 feet below.
The front end of the first bus dangled above Interstate 5 for hours before a tow-truck managed to pull it from the edge.
"I grabbed the person next to me and prayed to God we didn't fly," said passenger Stephanie Jackson of Spanaway.