CANCUN - Tropical Storm Dolly churned toward southern Texas on Monday, and forecasters said they expected it to grow into a hurricane before hitting land near the Mexican border later this week.
The storm, with sustained winds of nearly 50 mph (85 kph), emerged from the Yucatan Peninsula over the warm waters of the Gulf of Mexico. A hurricane watch was issued for the southern Texas coast, the U.S. National Hurricane Center said.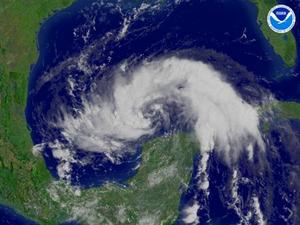 ©REUTERS/NOAA/Handout
A satellite image of Tropical Storm Dolly, taken on July 21, 2008.
Dolly was 475 miles southeast of the border, where it was due to hit on Wednesday near Brownsville, well away from sensitive offshore drilling rigs and production platforms.
The United States has largely escaped the past two Atlantic hurricane seasons, with just one hurricane -- Humberto in November 2007 -- making landfall on its coasts.