Rare corals may be smarter than we thought. Faced with a dire shortage of mates of their own kind, new research suggests they may be able to cross-breed with certain other coral species to breed themselves out of a one-way trip to extinction.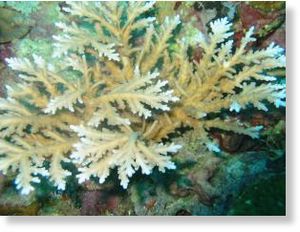 This finding, released by scientists at the ARC Centre of Excellence for Coral Reef Studies, has raised hopes for the ability of the world's corals to withstand the rigors of changing climates and human impacts, says lead author Zoe Richards.
"Coral reefs worldwide face a variety of marine and land-based threats and hundreds of corals are now on the red list of threatened species. It is often assumed that rare coral species face higher risks of extinction than common species because they have very small effective population sizes, which implies that they may have limited genetic diversity and high levels of inbreeding and therefore be unable to adapt to changing conditions," Zoe says.