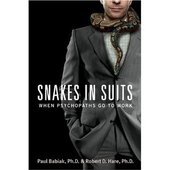 The criminal psychopath has been observed and studied for almost a century. But except for a short mention by Cleckley, the idea of a successful psychopath - ordinary by almost all external standards - has remained shrouded in that pervasive "conspiracy of silence". As this series progresses, it will become clear why this is the case and what exactly are the ramifications of such a dangerous gap in knowledge and awareness. So far the only in-depth presentation of the problem of successful psychopaths has been Paul Babiak's and Robert Hare's book
Snakes in Suits
, published in 2006. The book is essential reading, and has the potential to save your life, literally. The information it contains is universal and can be applied to interactions on any social level.
Babiak, as an industrial and organizational psychologist, encountered his first corporate psychopath in 1992. By studying operators like "Dave" in the corporate environment, Babiak not only brought into focus the methods by which psychopaths infiltrate and ascend the corporate ladder of success, he shattered previous illusions about what was and wasn't possible for psychopaths to accomplish. Many in the industry thought psychopaths wouldn't be able to succeed in business. They thought that psychopaths' bullying and narcissistic behaviors would be off-putting to potential hirers, and that their abuse and manipulations would inevitably lead to failure within the company. In fact, the so-called "experts" couldn't have been more wrong. They seemed to have neglected the uncanny ability of psychopaths to present
an image of extreme normality, and even excellence
, to their victims. And that is what we are to them: victims, potential "marks", suckers.