Comment: The following account is a heartfelt, personal, and dramatic illustration of psychopathy at work in a "normal" family situation. Many people will be able to identify with much, or even all of, this story and know from miserable but invaluable experience how just one solitary psychopath can victimize so many others, co-opt the legal and social systems and set up the primary victim to be the one with the problem. Vida's story of survival clearly reveals the insidiousness of psychopathy on the interpersonal level, and should leave us all with food for thought about the damage that can be wrought by more powerful psychopaths in positions of authority.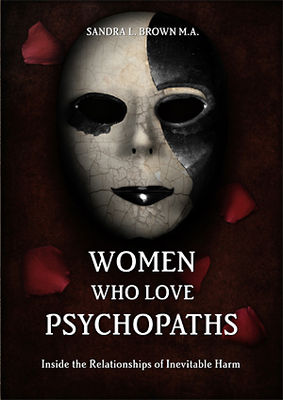 "It's in your head - it has always been all in your head! Simon is a good man!" But even if a thousand people believe and voice a lie and rise to defend the predator, it still remains a lie. And yes, such confrontations take their toll both emotionally and physically, and Simon keeps count and gloats as his carefully trained cohorts score points by inflicting pain. In fact, Simon planned the psychological confusion, anxiety, stress and grief which ensued every time my children, friends and family attacked me. Tears ran, motivation dwindled, and insomnia set in; soon, a wide range of symptoms were warning me that chronic conditions would result if I didn't deal with issues.
Hence, I was forced to face my demons and ask the difficult questions: How could my older children forget who I am and what I stand for? How can nurturing relationships suddenly become toxic? How could law enforcement professionals be duped? It took me years to understand what obscure and brutal forces altered my life, relationships, and circumstances. I had to question and investigate my deepest held beliefs, as I believed in the inherent good in all people. This was, without a doubt, the most damaging fallacy of my upbringing. Now, I understand that psychopaths delight in inflicting hurt and harm; it is their sport to seek out easy prey.
As I searched for the truth, information came to me in the form of books that explained and validated my inner knowledge and gut feelings. Dr Robert Hare, claims that with at least 2 million psychopaths in North America, virtually everyone will fall victim to a predator sometime during their life (
Without Conscience
p.2). Kevin Hogan and James Speakman explain techniques of
Covert Persuasion
, and, Amy J.L. Baker wrote
Breaking the Ties that Bind
which relates how children can be programmed and conditioned to act as child soldiers against a targeted parent. Psychopaths seem to thoroughly understand these strategies; perhaps they are innate. Therefore, be warned: the predator will choose you at your lowest ebb, then he/she will sense what you need and provide it. He or she will use mind manipulation strategies in the form of sublimations, Neuro Linguistic Programming (NLP) and other rhetorical devices. Your own morals and values will be used to control you and hold you captive. Once ensnared and entrapped, the psychopath will feed off you causing irreversible harm and devastation; you will never be the same again. This is the story of my misadventure.