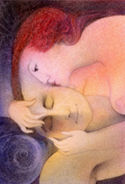 Oxytocin has been described as the hormone of love. This tiny chemical, released from the hypothalamus region of the brain, gives rat mothers the urge to nurse their pups, keeps male prairie voles monogamous and, even more remarkable, makes people trust each other more.
Yes, you knew there had to be a catch. As oxytocin comes into sharper focus, its social radius of action turns out to have definite limits. The love and trust it promotes are not toward the world in general, just toward a person's in-group. Oxytocin turns out to be the hormone of the clan, not of universal brotherhood. Psychologists trying to specify its role have now concluded it is the agent of ethnocentrism.
A principal author of the new take on oxytocin is Carsten K. W. De Dreu, a psychologist at the University of Amsterdam. Reading the growing literature on the warm and cuddly effects of oxytocin, he decided on evolutionary principles that no one who placed unbounded trust in others could survive. Thus there must be limits on oxytocin's ability to induce trust, he assumed, and he set out to define them.