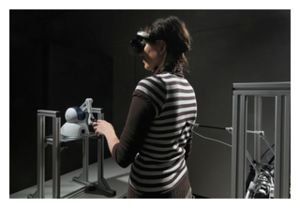 In 2006, cognitive neuroscientist Olaf Blanke of the University of Geneva in Switzerland was testing a patient's brain functions before her epilepsy surgery when he noticed something strange. Every time he electrically stimulated the region of her brain responsible for integrating different sensory signals from the body, the patient would look back behind her back as if a person was there, even when she knew full well that no one was actually present.
Now, with the help of robots, Blanke and colleagues have not only found a neurological explanation for this illusion, but also
tricked healthy people into sensing "ghosts,"
they report online today in
Current Biology
. The study could help explain why schizophrenia patients sometimes hallucinate that aliens control their movements.
"It's very difficult to try to understand the mechanisms involved in something so strange," says cognitive neuroscientist Henrik Ehrsson of the Karolinska Institute in Stockholm, who was not involved with the study. "It's very encouraging, very impressive, the way this team is making science out of this question."
Ghosts and apparitions are a common theme in literature and religion. In real life, patients suffering from schizophrenia and epilepsy sometimes report sensing a presence near them. After studying such cases, Blanke found some striking similarities in how epilepsy patients perceive these eerie "apparitions," he says. Almost all patients said the presence felt like a human being positioned right behind their back, almost touching them, with malicious intentions. Patients with brain damage on the left hemisphere felt the ghost at their right side, and vice versa.