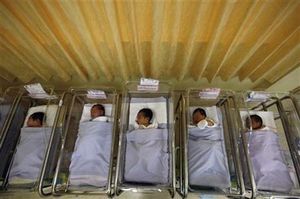 British scientists have shown for the first time how our brain "wiring" develops in the first few months of life and say their findings will help in the understanding of a range of brain and psychiatric disorders.
Using a new imaging technique, researchers from the Institute of Psychiatry at King's College London scanned babies brains to monitor the formation of insulating layers around nerve cells.
They found that by the age of nine months, the process -- known as myelination and vital for normal brain function -- was visible in all brain areas and in some regions had developed to a near adult-like level.
"We already know that insulating myelin sheaths form the cornerstone of our neurodevelopment. Without them, messages to and from the brain would be in disarray," said Sean Deoni, who led the study, published by the
Journal of Neuroscience
.
"By understanding exactly how myelin develops and when this process breaks down, we hope to be able to tailor treatments for vulnerable patients, such as premature babies, and understand what differentiates those that develop normally from those who have some delay or disability."