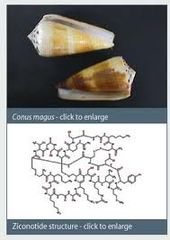 Experts recommend more precise diagnosis and closer medical surveillance
This release is available in
German
.
The active agent ziconotide, the synthetic toxin of the cone snail (
Conus magus
), was acclaimed a safe alternative to morphine when it was introduced six years ago. Now it is increasingly suspected of causing patients to commit suicide. Researchers working under the auspices of Prof. Christoph Maier (Director of the Pain Clinic Bergmannsheil at the Ruhr University in Bochum) presume that ziconotide not only suppresses the transmission of pain stimuli, but also deteriorates the frame of mind and could simultaneously reduce anxiety and impulse control. These mechanisms could promote suicidal tendencies in vulnerable patients. The research scientists thus advise careful diagnosis and monitoring of the psychic condition of patients treated with ziconotide. They have published their findings in the
Medical Journal Pain
.