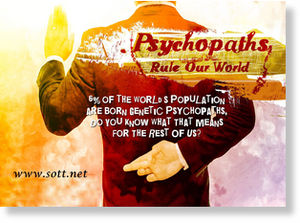 Despite the best advice of the world's top experts, Australian documentary-maker Ian Walker was naive to think he could study a psychopath in the wild and not get hurt.
"I didn't really understand how manipulative a psychopath can be," the director of
I, Psychopath
now admits. "I thought it would be a fair fight. After all, the filmmaker has the power, really. The power of the camera and the edit."
But, as it turns out, Walker chose his subject well. 47 year-old Israeli-born Sam Vaknin is a former corporate criminal and a self-proclaimed master of manipulation and reinvention. Walker first interviewed him several years ago as the author of the book
Malignant Self-Love: Narcissism Revisited
.
Walker was intrigued by a throwaway line where Vaknin professed he thought himself a "corporate psychopath". Afterwards, the film-maker spent several years researching the subject, but always wanted to make a film which might show psychopathic behaviour in action. Because of his narcissism, Vaknin was almost certain to say "Yes".
So, in February 2008, joined by Vaknin's long-suffering but ever-loyal wife Lidija, the threesome embarked on a diagnostic road trip to the world's top experts in psychopathy. Via a battery of psychological testing and brain scanning experiments, Vaknin becomes the world's first civilian to willingly seek a diagnosis for psychopathy.