The Misconception:
When your beliefs are challenged with facts, you alter your opinions and incorporate the new information into your thinking.
The Truth:
When your deepest convictions are challenged by contradictory evidence, your beliefs get stronger.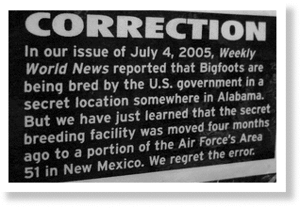 Wired, The New York Times, Backyard Poultry Magazine
- they all do it. Sometimes, they screw up and get the facts wrong. In ink or in electrons, a reputable news source takes the time to say "my bad."
If you are in the news business and want to maintain your reputation for accuracy, you publish corrections. For most topics this works just fine, but what most news organizations don't realize is a correction can further push readers away from the facts if the issue at hand is close to the heart. In fact, those pithy blurbs hidden on a deep page in every newspaper point to one of the most powerful forces shaping the way you think, feel and decide - a behavior keeping you from accepting the truth.
In 2006, Brendan Nyhan and Jason Reifler at The University of Michigan and Georgia State University created fake newspaper articles about polarizing political issues. The articles were written in a way which would confirm a widespread misconception about certain ideas in American politics. As soon as a person read a fake article, researchers then handed over a true article which corrected the first. For instance, one article suggested the United States found weapons of mass destruction in Iraq. The next said the U.S. never found them, which was the truth. Those opposed to the war or who had strong liberal leanings tended to disagree with the original article and accept the second. Those who supported the war and leaned more toward the conservative camp tended to agree with the first article and strongly disagree with the second. These reactions shouldn't surprise you. What should give you pause though is how conservatives felt about the correction. After reading that there were no WMDs, they reported being even more certain than before there actually were WMDs and their original beliefs were correct.