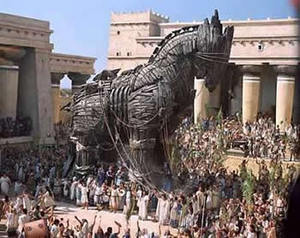 ©n/a
The Trojan Horse, the symbol for being fooled by an outward show and appearance, letting down one's guard, and bringing the enemy inside. Not far from what the world is experiencing today with the rule of psychopaths: intraspecies predators who look like normal humans but are not.
We had just made an international move and were waiting in our new house for our delayed shipping container to arrive with our library. I was quite at loose ends without anything to read when this book arrived in the mail, sent by a friend who knew I was without books. I can tell you that, after reading the cover, if my library had been there, I would never have read it. "Stuff and nonsense!" I snorted! Who was this guy to suggest that Troy was not close to Greece, that all the scholars were wrong?
Well, it's really a good thing I didn't have anything else to read! So many questions answered!
Most people are not aware that not one of forty characteristics of the City of Troy and the Trojan War plain fit the Mediterranean setting. What is astonishing is that the author of the Odyssey does give ALL the information needed to exactly place where Troy Once Stood!