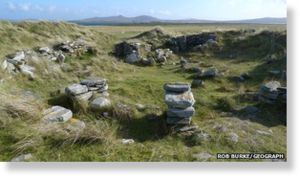 New research is being carried out on artefacts recovered from a site where evidence was found for every age from the Neolithic to the 20th Century.
Archaeology at Udal provides an "unbroken timeline" of occupation from the Neolithic, Bronze Age, Iron Age, Viking, Medieval through to the 1900s.
Some of the evidence at the site on North Uist was preserved by wind-blown sand dunes.
Archaeologist Ian Crawford excavated Udal between 1963 and 1995.
The earliest Neolithic layers he revealed consisted of a line of stones with a large upright stone nicknamed the great auk stone because of its resemblance to the extinct seabird.
A deep shaft containing quartz pebbles which had been covered over with a whale's vertebrae was also uncovered.
From the Bronze Age, finds included a skeleton and from the Iron Age evidence of metal work.