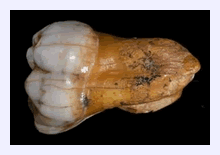 Last month scientists revealed remarkable evidence of a new group of ancient humans called Denisovans that interbred with our species and left behind a genetic trace in people living in south east Asia today.
An international team, including scientists at the Max Planck Institute in Germany, carried out a genetic study of a finger bone and a large molar tooth uncovered in Denisova Cave in the Altai Mountains, Siberia. They sequenced the genome and found that this ancient human shared 4-6% of its genetic material with some present-day Melanesians.
In March, the team obtained a complete mitrochondrial DNA (mtDNA) sequence for the same finger bone, dated to about 40,000 years ago, showing that it was from neither a modern human nor Neanderthal.
Professor Chris Stringer, human origins expert at the Natural History Museum, comments on this research, 'The recovery of mtDNA from Denisova Cave was an exciting enough development, but this latest work by many of the same team is nothing short of sensational.
'This new work showed that the fossil finger bone female was actually slightly closer genetically to Neanderthals than to modern humans, but something else even more remarkable was revealed: the Denisovan is also related to one group of living humans - Melanesians, who live on some of the islands of south east Asia.'