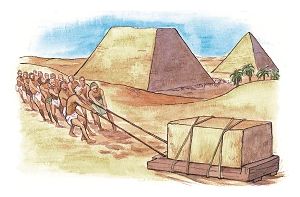 Becoming bound by eternal, unquestioning servitude as someone's property is not likely most people's career of choice. 2200 years ago, however, it seems some Egyptians voluntarily signed up to become temple slaves.
Not only that, they even paid a monthly fee for the "privilege."
The revelation comes from the work of Egyptologist Kim Ryholt of the University of Copenhagen, who has been studying papyrus slave contracts found in a rubbish dump in the ancient Egyptian temple city of Tebtunis.
"I am your servant from this day onwards, and I shall pay 2½ copper-pieces every month as my slave-fee before Soknebtunis, the great god."
This is part of the translation of 100 of these papyrus slave contracts that Ryholt has spent years trying to collect and analyse. The documents were scattered in fragments across Egypt, Europe and the US after they were illicitly excavated. In one example, a contract was divided between Copenhagen and the British Museum.
Ryholt is the first to analyze these papyri collectively, publishing his findings in a recent article titled:
A Self-Dedication Addressed to Anubis - Divine Protection against Malevolent Forces or Forced Labour?