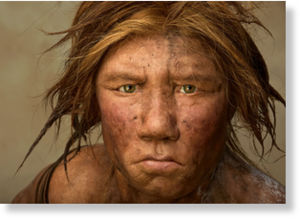 Neandertals are stumping for bragging rights as the first builders of mammoth-bone structures, an accomplishment usually attributed to Stone Age people.
Humanity's extinct cousins constructed a large, ring-shaped enclosure out of 116 mammoth bones and tusks at least 44,000 years ago in West Asia, say archaeologist Laëtitia Demay of the National Museum of Natural History in Paris and her colleagues. The bone edifice, which encircles a 40-square-meter area in which mammoths and other animals were butchered, cooked and eaten, served either to keep out cold winds or as a base for a wooden building, the scientists propose in a paper published online November 26 in
Quaternary International
.
Mammoth-bone huts previously discovered at Homo sapiens sites in West Asia date to between 27,500 and 15,000 years ago. The new discovery comes from Molodova, a Ukrainian site first excavated in the 1950s. There, Neandertals erected a mammoth-bone structure that's unlike later mammoth-bone huts, suggesting that the two Homo species developed these practices independently, says study coauthor Stéphane Péan, also of France's National Museum of Natural History.
Researchers have argued for decades about whether Molodova Neandertals left mammoth bones scattered about or built something out of them.