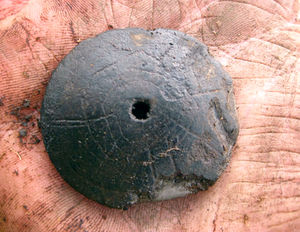 Archaeologist Scott Shirar expected to find boulders adorned with petroglyphs during his expedition to explore the previously discovered remains of three prehistoric lakefront dwellings in Northwest Alaska's Noatak National Preserve this summer.
When he and members of his team began small-scale excavations at two of the sites, they made a new discovery: four decorated clay disks that appear to be the first of their kind found in Alaska.
"The first one looks like a little stone that had some scratch marks on it," said Shirar, a research archaeologist at the University of Alaska Museum of the North. "We got really excited when we found the second one with the drilled hole and the more complicated etchings on it. That's when we realized we had something unique."
After sharing information with colleagues and looking up examples in the archaeological record, Shirar said the disks appear to be a new artifact type for Alaska. "We only opened up a really small amount of ground at the site, so the fact that we found four of these artifacts indicates there are probably more and that something really significant is happening."