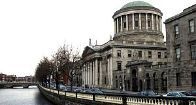 Early Christian remains have been uncovered by contractors working on the largest energy project in the country.
The medieval burial ground was discovered on farmland in Rush, north Dublin, in June as EirGrid laid piping for a high voltage direct current (HVDC) underground power line.
Radiocarbon tests at Queens University, Belfast, have revealed the site dates back to the seventh century, from between 617 to 675 AD.
Archaeologists would not speculate on the number of remains on the site but confirmed they were pre-Viking and from the conversion period of Christianity.
John Fitzgerald, project director with Eirgrid, said: "It is an interesting historical discovery for the project, local archaeologists and the local community.