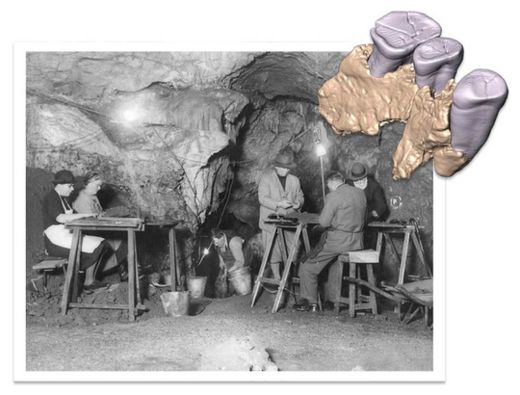 The twee town of Torquay, on England's Devon coast, has two major claims to fame: It was the birthplace and longtime home of mystery writer Agatha Christie, and it's the home of Kents Cavern, one of the United Kingdom's most important archaeological sites.
Last year, researchers reported that
an upper jaw found in the cave could be the oldest modern human fossil in Europe
. But a new study questions that claim, arguing that the date of the jawbone may never be known with certainty. The controversy has an important bearing on debates about the spread of
Homo sapiens
out of Africa.
"One bad date can rewrite the entire prehistory of our species in Europe," says Paul Pettitt, an archaeologist at the University of Sheffield in the United Kingdom and co-author of the new study, which is in press at the
European Journal of Archaeology.
But members of the original team,
who published their dating results last year in Nature
,
have responded sharply to the criticisms.
The new study's conclusions, says Thomas Higham, a radiocarbon dating expert at the University of Oxford in the United Kingdom and lead author of the
Nature
paper, "expose a breathtaking ignorance of the [new] developments in scientific approaches to the past."
Kents Cavern has been excavated numerous times since the 1820s by some of the United Kingdom's most famous archaeologists. In 1927, Arthur Ogilvie, then curator of the Torquay Museum, discovered the partial jawbone, which includes three teeth.
Over the years, researchers have debated whether the fossil was that of a modern human or a Neandertal, as well as how old it was. In 1989, scientists at the Oxford Radiocarbon Accelerator Unit attempted to directly date the bone and came up with an age of approximately 35,000 years. (All dates in this story are calibrated to account for fluctuations in atmospheric radiocarbon over time.)