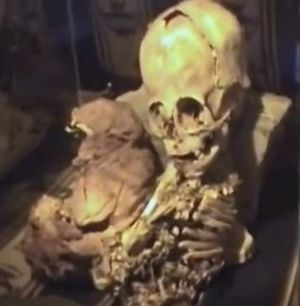 A very strange abnormal-looking mummy with giant head has been unearthed in Peru.
The discovery was made in the Cuzco region, the heart of Incan civilization.
Researchers find the mummy extremely odd. The mummy simply does not fit in with the version of history that we have all been taught.
The mummy's head is triangular and its eye cavities are very big.
"It's 20 inches tall, which doesn't coincide with the stereotypes of humans. It's head is triangular and the eye cavities are too big.
The lower front part of the jaw has a kind of fin that doesn't exist in any ethnicity in the world.
The opening at the top of the head also calls for attention, and it has wisdom teeth and molars that also don't coincide with any human being," explains anthropologist Renata Davila.
According to Anthropologist Pablo Bayabar, "children's heads are proportionally bigger than their bodies.
Here we have two points.
First, the fontanelle is open, which usually closes at 31 months. And it has molars that usually appears between approximately 13 and 19 months.
So we are looking at a child under two years old with an enormous head."