A self-proclaimed prophet had a vision from God: He would bu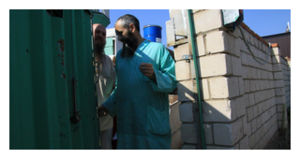 ild an Islamic caliphate under the earth.
The digging began about a decade ago and 70 followers soon moved into an eight-level subterranean honeycomb of cramped cells with no light, heat or ventilation.
Children were born. They, too, lived in the cold underground cells for many years - until authorities raided the compound last week and freed the 27 sons and daughters of the sect.
Ages 1 to 17, the children rarely saw the light of day and had never left the property, attended school or been seen by a doctor, officials said Wednesday. Their parents - sect members who call themselves "muammin," from the Arabic for "believers" - were charged with child abuse.
The sect's 83-year-old founder, Faizrakhman Satarov, who declared himself a prophet in contradiction to the principles of Islam, was charged with negligence, said Irina Petrova, deputy prosecutor in the provincial capital of Kazan.
The children were discovered when police searched the sect grounds as part of an investigation into the recent killing of a top Tatarstan Muslim cleric, an attack local officials blame on radical Islamist groups that have mushroomed in the oil-rich, Volga River province of Tatarstan.