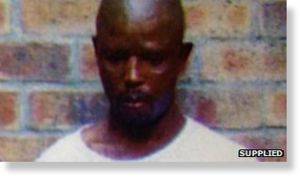 A man accused of being one of South Africa's worst serial rapists, Sifiso Makhubo, has been found dead in his prison cell, officials say.
Sifiso Makhubo, who faced 122 charges, including murder, was found hours before his trial was due to start.
He is also charged with attempted murder over allegations he knowingly infected his victims with HIV - the first such prosecution.
South Africa has one of the highest rates of sexual violence in the world.
Some 64,000 cases were reported to the police last year.
It is also the country with the largest HIV-positive population - some 5.5 million people, or 17% of those aged 15-49.
The authorities say Mr Makhubo was alone in the cell and is believed to have hanged himself with a blanket but they are investigating the circumstances of his death.
He was accused of raping 35 children and two women between January 2006 and February 2011.
His youngest alleged victim was only 10 years old.
So far 33 DNA samples from evidence collected from the victims had been a match with the alleged rapist, reports say.
Prosecutors say Mr Makhubo knew his HIV status when he raped his victims, so they intended to argue that this constituted attempted murder.
Justice denied?
In spite of numerous campaigns, deliberately infecting someone with HIV has not been made a specific offence, says the BBC's Pumza Fihlani in Johannesburg.
But there has been at least one civil case where damages were awarded, she says.
While some Aids activists support the change in the law to curb the spread of the virus in the country, legal experts say it would be difficult to secure a conviction, as the state would have to prove that the victim was HIV-negative prior to being raped and also that they were infected by the person charged.
National Prosecuting Authority spokesperson Phindi Louw said she was "sad" for Mr Makhubo's victims because they did not get the "closure" they had expected.
"The case against Sifiso Makhubo took a huge amount of effort to bring to court. My heart goes out to the victims," she said, according to the
Mail and Guardian
newspaper.