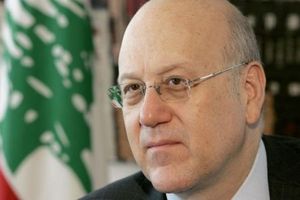 Lebanese President Michel Sleiman has issued a decree appointing Hezbollah-backed candidate Najib Mikati as the country's new prime minister.
Mikati won 68 votes out of the parliament's 128 seats to be poised as the new prime minister following two days of discussions between lawmakers and Sleiman.
Caretaker Prime Minister Saad Hariri had also nominated himself for the post.
His government collapsed nearly two weeks ago following the resignation of 11 ministers from the coalition cabinet in a dispute over a US-backed tribunal investigating the 2005 assassination of Lebanese former Premier Rafiq Hariri.
In a televised speech shortly after his installation, Mikati reached out for all Lebanese factions and called on them to overcome differences and participate in an inclusive unity government.
"Nothing justifies the refusal of any political party to participate" in the next government, he added. "My hand is extended to all Lebanese."
He called for an end to all political divisions in the country and the establishment of mutual trust "based on national dialogue whereby we can discuss all issues of difference far away from any insult."