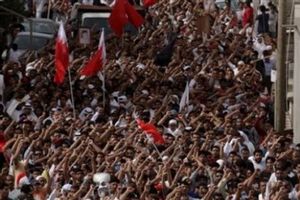 President of Bahrain's Center for Human Rights Nabeel Rajab says the US media have been ordered not to cover news on the government's brutal crackdown on Bahraini people.
Reports from the Center's colleagues in the United States say "In the US some news agencies and TV stations were asked not to report on Bahrain and not to embarrass [President Barack Obama's administration," Rajab told Press TV.
He went on to say that the US and the Western governments have chosen to keep silent over ongoing atrocities in Bahrain due to their support for the country's authoritarian regime.
According to unconfirmed reports, over 420 people have been arrested during ongoing protests in the kingdom, Rajab pointed out.