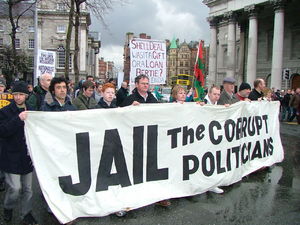 A lot of people can see that today's politicians and corporate heads are a pretty corrupt bunch. At the same time however, most people don't worry too much about that particular problem because, at the end of day, those guys still work for 'we the people', right? I mean, they're not called 'public servants' for nothing and we put them in office! ... right? If things get really bad we'll just expose them through the media or, if things get really bad, we might even start a revolution! ...right?? ... Or failing that, God will save us??!
The extent of the corruption in our world today goes far beyond what most people know or could even imagine in their darkest, most politician-phobic nightmares. And arming ourselves with the simple idea that 'power corrupts' hasn't exactly acted as a check or balance to the excesses of these 'captains of industry'. In order to even hope of standing up for and protecting our rights and lives in this increasingly draconian world, we need to understand the nature of the problem we are facing, or, to be more specific, we need to understand the nature of those corrupt leaders. We need, to some extent, to get inside their heads and know what makes them 'tick'. We need to ask ourselves, 'do their actions match their words'? If you have been paying attention, you know that the answer is 'hardly ever...if ever'. Many answers to this question can be found in Andrew Lobaczewski's scientific study on the nature of evil,
Political Ponerology
. His work identifies the pathological nature of our leaders and the governing bodies that they create around themselves. Although it is written in the framework of politics,
Political Ponerology
just as easily applies to all the structures that make up our global society.
The unfortunate result of humanity being invaded by pathological thought, is a weakness in discerning healthy conditions from pathological ones. Our tyrants follow no rules to maintain their position of control over humankind, yet they set the conditions that men and women follow 'for a better life'. Revolution, protest, elections, free speech, and religion are just a few things touted as means by which me might find our humanity. And yet we exist as we have for millennia, suffering at our own hands, at the hand of our fellow man and, at the source, at the hands of
pathocrats
.