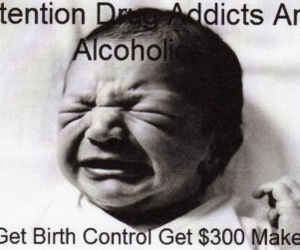 Project Prevention is raising eyebrows and controversy by offering drug addicts $300 to either undergo sterilization or use a form of long-term birth control.
Project Prevention has paid a total of 4,077 people (including 65 men) to get a tubal ligation (tube-tying), an IUD, implanon (a hormonal contraceptive that is implanted), Depro-Provera (an injection that lasts three months) or (for men) a vasectomy.
Based in North Carolina, Project Prevention hangs posters in nationwide in homeless shelters, methadone clinics, AA and NA meeting rooms, and near needle exchange programs. The posters say: "Don't let a pregnancy ruin your drug habit." and "She has her daddy's eyes ... and her mommy's heroin addiction."