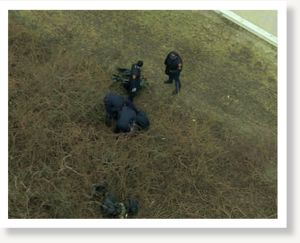 Situation Serious On Long Island As Victims List Grows To 8
Gilgo Beach, N.Y. - There was yet another chilling discovery on Long Island on Monday.
Chopper 2 HD was over Gilgo Beach where police searching for victims of a serial killer found the remains of three more people, bringing the total to eight, reports CBS 2's Jennifer McLogan.
It was a stunning and disturbing development - the remains were discovered along Ocean Parkway, bringing the total to eight.
Police now suspect a possible serial killer.
Through dense poison ivy bramble and tick-infested undergrowth a phalanx of Suffolk County investigators intensified the search for the missing New Jersey woman, 2
4-year-old Shannan Gilbert of Jersey City
, and what they found was almost beyond comprehension.
"I'd like to report at this time that we found human remains, three human remains so far in the area between Oak Beach and Gilgo Beach," Suffolk County Police Commissioner Richard Dormer said.