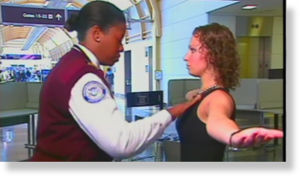 An area Wiccan discovered first hand what most of us are still unaware of - many flyers are now being forced to choose between allowing a TSA agent to see them naked or to have their genitals touched and squeezed as part of what the TSA terms "enhanced pat downs." Celeste, a survivor of rape, described her experience with the new TSA procedures as devastating.
Celeste is a seasoned air traveler. She estimates that she flies upwards of 60 times a year for her job and she knows all the ins and outs of most airports in the USA. Want to know which airport has the best sushi? Celeste can tell you. What she, and most other people didn't know, was that
on October 29th the TSA changed their security guidelines
. "I flew to Chicago with no problems. Everything was the same as before. It was when I attempted to fly back to Minnesota that I found out about TSA's new rules. What they did to me, in full view of everyone else in line, was like being sexually assaulted all over again. I was in shock. I hate myself that I allowed them to do this to me. I haven't been able to stop crying since."
Previously, flyers walked through a metal detector and some persons were randomly selected for a pat-down that avoided the face, genital areas, and hair. This was the procedure that Celeste was familiar with.