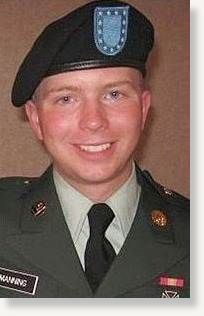 Five months ago, on April 22, 2011, over 400 citizens converged on Quantico Marine Base to protest the pre-trial conditions of alleged Wikileaks whistleblower US Army Private First Class Bradley Manning. Manning was arrested on May 26, 2010, on a U.S. military base in Iraq on suspicion of giving classified material to the website WikiLeaks.
No Speedy Trial-Manning still in pre-trial confinement after 560 days
Manning still is in pre-trial confinement, 560 days after he was arrested.
Manning was charged on July 5, 2010, with transferring classified materials on his personal computer, and communicating national defense information to an unauthorized source. An additional 22 charges were added on March 1, 2011, including wrongfully obtaining classified material for the purpose of posting it on the Internet knowing that the information would be accessed by the enemy; the illegal transmission of defense information; fraud; and aiding the enemy. In April, 2011, he was found fit to face a court martial and currently awaits the first hearing.