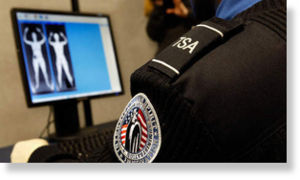 Among the Transportation Security Administration's ever-lengthening laundry list of problems is a recently highlighted proclivity among its agents not to practice what they preach.
Earlier this week, a TSA agent cracked a "joke" that, had it come from a passenger, would have resulted in a nude-body scan, a forty-minute enhanced pat-down, and probably a firing squad for good measure.
The incident, reported by
The Consumerist
, occurred at Boston's Logan Airport and involved a passenger who opted not to pass through one of the airport's new advanced imaging technology (AIT) scanners. The passenger was perhaps aware of reports
last month of an increase in cancer cases among TSA personnel at Logan
.