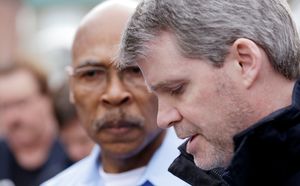 In the aftermath of the Steelhead Landslide in Snohomish County, which has claimed a still-unknown number of lives, eyes are turning towards the actions of Snohomish County Department of Emergency Management Director John E. Pennington.
The monster mudslide, which obliterated a community of almost 50 homes and vacation cabins, apparently took county officials by surprise - despite the fact that slides have occurred on the site for at least 60 years, most recently in 2006.
The
Seattle Times
on Monday reported that Pennington, appointed to his post in 2006 by controversial ex-SnohomishCounty Executive Aaron Reardon, said, "It was considered very safe. This was a completely unforeseen slide. This came out of nowhere."
However, the
Times
reported that geologists had warned of a major slide since at least 1999; further, global warming experts pointing to more rainfall in winter months are already suggesting the Steelhead mudslide could be the "new normal."